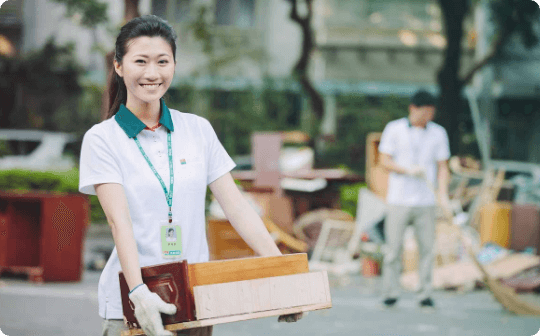 The Company, in order to fulfill its corporate social responsibility and promote the balance and sustainable development of economic, social and environmental ecology, had its "Corporate Social Responsibility Best Practice Principles for Sinyi Realty Inc. " approved in the Board of Directors in December 2010 and reported at 2015 annual general shareholders' meeting for revision. The Company sets up the vision of "fulfilling our dedication toward the society and achieving world-class service giant" and six rules of sustainable operation. At the 16th meeting of the 13th Session Board of Directors convened in December 2020, the Company's Vice General Manager, Chuang Yun Chou reported on the implementation of corporate social responsibility (CSR) in all aspects related to the stakeholders in Fiscal 2020 as well as plan for implementation for the ensuing year.
A dedicated unit for CSR
The Company has set up the Total Ethics Management Committee (hereinafter referred to as "TEM Committee") which coordinates the Company's corporate social responsibility (CSR) and sustainable development goals. On a regular basis, the TEM Committee checks and verifies the Company's performance and its achievement of the established goals; reports to the Board of Directors every year about the promotion and planning in implementation status. In ordinary times, Business Planning Office is responsible for the Company's corporate social responsibility (CSR) related major management themes to look into the issues of concern of the major stakeholders identified by the Company, including customers, colleagues, shareholders, society, environment, and suppliers.
Employees
Sinyi Group Prevention Guide is rolling amendments at any time, adding new measures to strengthen control, work and leave regulations, and respond to changes.
New employees are offered a guaranteed monthly salary of NT$50,000 for the first six months.
Adhere to the human rights protection policies, prohibit forced labor and provide sexual harassment prevention act lessons and prevention of illegal violence in the workplace to around 50,000 participants in 2020.
Compulsory occupational health and safety training.
According to ISO45001 management system to operate a safe and healthy workplace, continuously monitor and improve.
Suppliers
Invite suppliers to fill up and complete corporate social responsibility (CSR) self-assessment form
Purchase or rent environmental friendly products, using green materials, office equipment, and appliances
Awarded the "Green Procurement Enterprise" by the Department of Environmental Protection (Taipei City Government) for 13 consecutive years.
Implement the inspection of key suppliers (279 companies in total), with an inspection rate of 93.55%, included in the ESG-oriented evaluation criteria in order to improve the overall service process.
Environment
Service carbon emission reduction and verification thereof
Promotion of zero-carbon emission stores
Respond to government policies and activities from all people in all walks of life; promote the green spirit of the Sinyi entire staff.
Respond to international initiatives(CDP, TCFD, SBTi, Net Zero 2030/2050 initiative, Earth Hour)
Corporate Social Responsibility Implementation Status